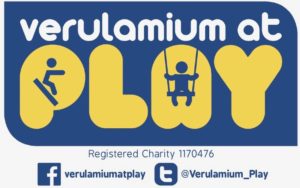 PRESS RELEASE  MARCH 2017
 ANNOUNCING:
VERULAMIUM AT PLAY
A new charity initiative to rejuvenate the play area in St Albans flagship park
Verulamium at Play is a local charity co-founded by Jessica Chivers – a local resident and councillor (charity no. 1170476)
If you would to learn more please read the full press release by clicking HERE.
Alternatively you can learn more at the local council website HERE.
Also follow them on twitter @Verulamium_Play or https://www.facebook.com/Verulamiumatplay/